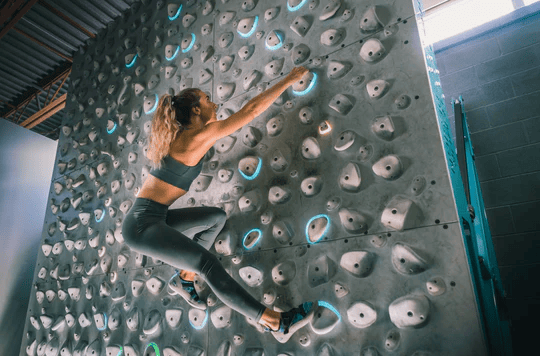 QUALITY
Lemur Design has developed a family of adjustable walls in partnership with Kilter Grips to meet the needs of both private and commercial climbing centres. Our product line is offered in a variety of sizes and is compatible with the Kilterboard system for an unparalleled experience.

All Lemur Design adjustable walls are made from materials selected for their durability and worked with the best possible manufacturing techniques. The commercial walls adjust automatically from a touch screen and the home walls adjust manually in minutes and effortlessly with the push of a button.

The adjustable wall structure is made of steel with a premium powder coating. The parts are cut and bent by digitally controlled machines. Welding and painting are carried out by qualified and certified workers. The steel parts are manufactured by a unique partner in the Montreal area
DURABILITY
The panels are manufactured by Lemur Design's in-house team at our Montreal facility. The hardwood panels (Birch) produced in Europe are cut using our numerical control machine before being spray-painted with an ultra-resistant secret polyurethane coating. The perfectly integrated design of the adjustable wall panels allows quick assembly on the adjustable wall frame. To make assembly as simple as possible, Lemur Design can engrave (at no charge) the outlet numbers and orientation when a Kilterboard system is purchased at the same time.

All of our adjustable walls can be assembled by the customer in a matter of hours. The design of the walls has been optimized to simplify installation and the user manual guides the customer through the process. Lemur Design can always be contacted for assistance (free of charge).
Since their creation by Wolfgang Güllich, training walls have become more diverse and complex. Digital technologies are now an integral part of adjustable climbing walls, the Lemur Design wall, when combined with the Kilterboard system, becomes a full-fledged climbing wall as well as a training wall. By combining the application and the variation of the wall angle, the number of unique combinations is virtually infinite.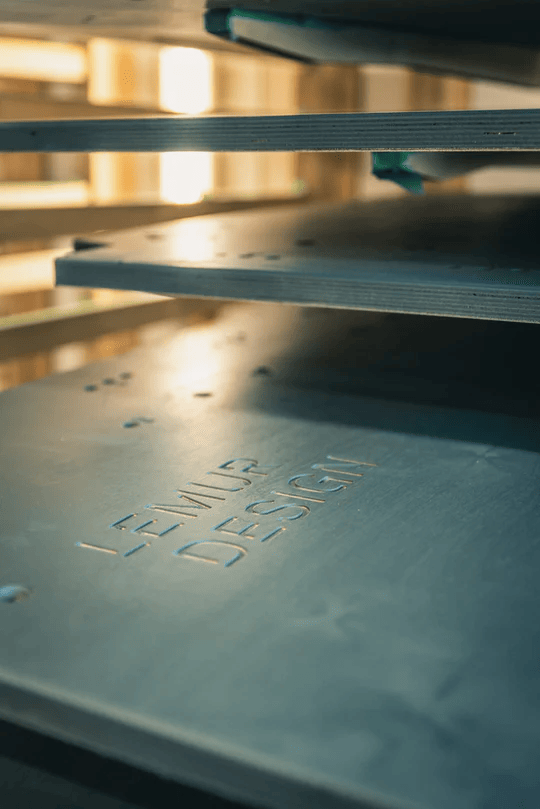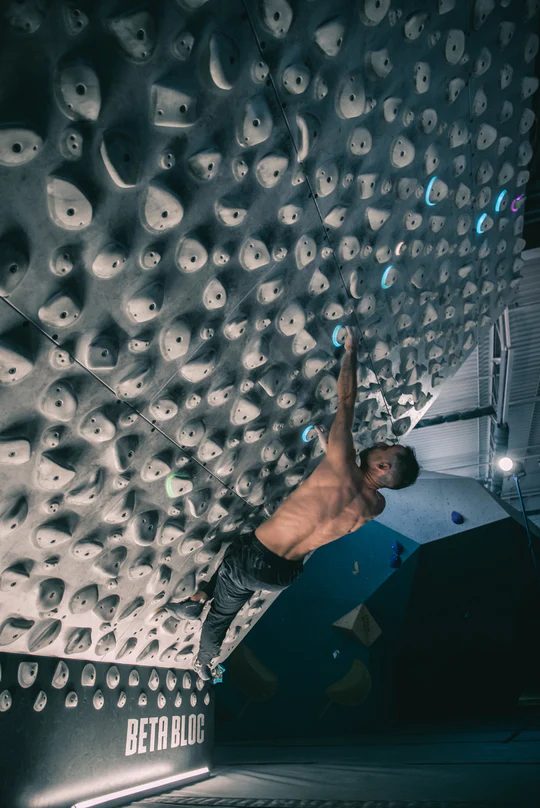 EXPERIENCE
Climbers benefit from the adjustable climbing wall because they can increase the difficulty of the same problem without having to move the climbing holds. When the wall is combined with a Kilterboard system, the climber has access to tens of thousands of problems (which will never be removed from the application), so they can work a problem
today and come back to it in a few months.

Coaches and elite athletes benefit from the multi-level adjustable wall. Coaches can ask their athletes to complete certain problems catalogued in the application (Kilterboard). Once the problem is completed, it can be recorded as "done". This allows for simplified training management for athletes and their coaches.

Climbing gyms benefit from the Lemur Design adjustable wall because it meets the needs of their clients. Novice climbers use the adjustable walls to practice new climbing moves or holds. Elite climbers use the adjustable wall to push their limits and monitor their progress. Once installed, the adjustable wall requires much less maintenance than fixed walls, there is no need to continually open new routes as the angle adjustment (in addition to the Kilterboard application) does the job without intervention.


TESTIMONY
"The Kilterboard built and installed by Lemur Design was a wonderful
addition to our space. Their outstanding service has allowed us to have
a wall that is completely customized to our image.

Since installation, this adjustable wall has been very popular
and has quickly become a staple of Beta Bloc. Thank you!"

BetaBloc.ca
- Naim Tremblay, Beta Bloc Montreal