adjustable climbing wall - bouldering - climbing - climbing gym - training - Adjustable climbing wall - training -05 May, 2022
HIGH PERFORMANCE TRAINING ON THE KILTERBOARD
          Whether you are preparing for a local project, a climbing trip, a local competition, an IFSC World Cup or just for fun, at some point we all commit to some sort of training plan to build our strength.
It's no secret that all top athletes need to train specifically throughout the year in order to perform at their best. Fortunately, there are now many training tools available to climbers and one of the most popular these days is the Kilterboard.
We asked two of Canada's top climbers what they think of this new training tool and how they are using it. Long-time athlete Alannah Yip represented our country at the 2021 Tokyo Olympics, and young hopeful Victor Baudrand recently won the national difficulty championship in Richmond, BC.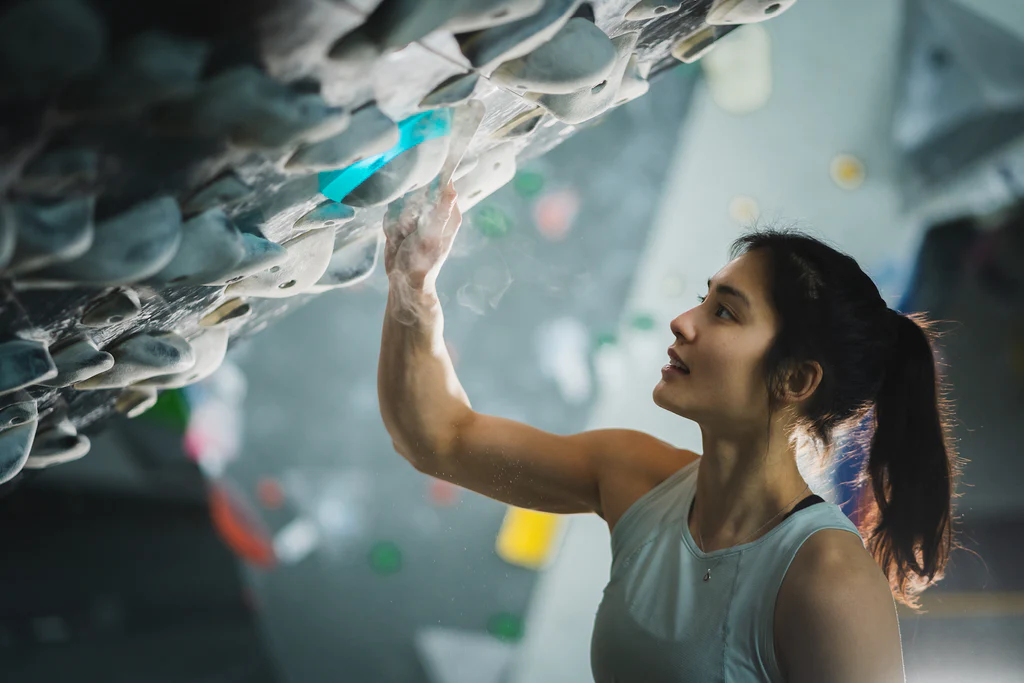 HOW MANY TIMES A WEEK DO YOU CLIMB AND WHAT SPECIFIC TRAINING DO YOU DO?
Alannah I climb 5 days a week and usually do 10 individual workouts a week. Some are climbing days that are split up according to the time of year, focusing on strength or power (such as climbing "projects" on the Kilterboard), power endurance (such as bouldering reps) and technique/competition (usually on the regular walls of a climbing gym, with an emphasis depending on the session such as slab, footwork or coordination). My off-wall training consists of different types of hangboard training, strength and conditioning sessions, and mobility/recovery sessions."
Victor Victor says: "In an intensive training cycle I climb four to five times a week and at least one of those days I make sure to climb on rope. I like to vary my training by climbing on a mixture of commercial gym boulders, wall boulders filled with holds (where I make my own problems) and of course, Kilterboard. On my first day of climbing, after a rest day, I always favour a maximum strength fingerboard session. I do this before I start my 2-3 hour session. After the climbing session, I often do either strength training or explosive power."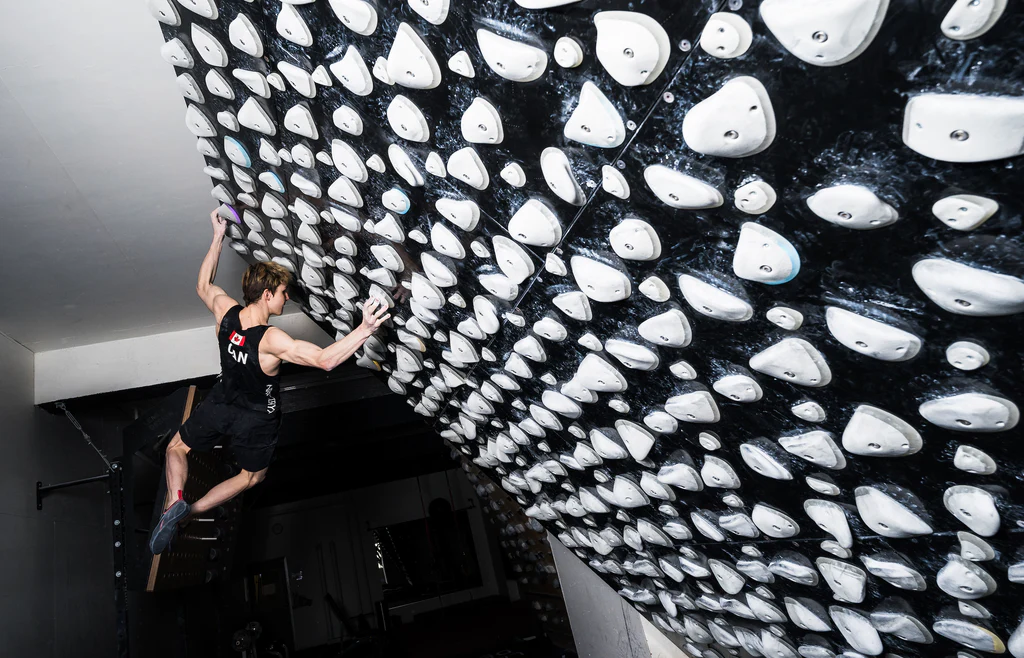 HOW HAS KILTERBOARD CHANGED THE WAY YOU PLAN YOUR TRAINING?
Alannah With the Kilterboard, I know I have almost unlimited hard blocks to try. Especially with the one with the LEMUR adjustable angle system, there are so many options. Often, in a climbing gym with regular boulders, there aren't too many really hard boulders to choose from - especially if I'm specifically looking to train strength or power. With Kilterboard, I know I can have a full session focused on strength or power and never run out of things to do that are at the right level for me."
Victor When I moved to Sherbrooke, Quebec for university last fall, I discovered the LEMUR Kilterboard and its great training possibilities. I use the Kilterboard mainly for throws and hard bouldering circuits, but sometimes I will focus my climbing session on execution by concentrating on sight bouldering problems."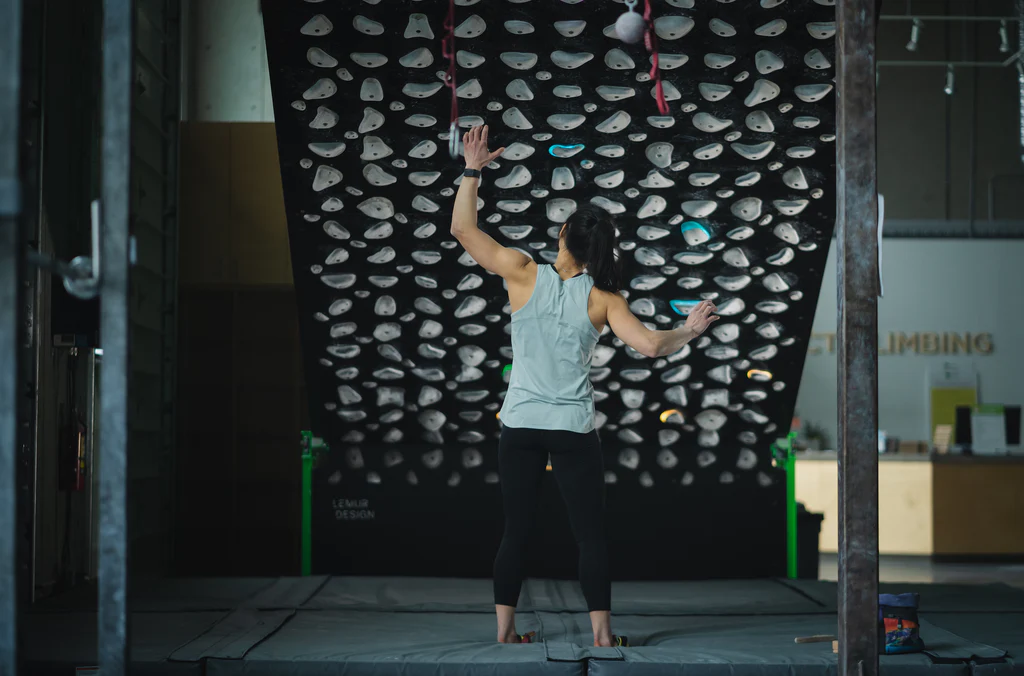 HOW DO YOU USE THE KILTERBOARD TO ASSESS YOUR FITNESS?
Alannah The first is to have project climbs that I haven't done yet but I try them often enough. If I start to improve on a few of them in a few sessions, I know I'm getting stronger. The second is to repeat climbs I've done in the past and try to assess how I feel compared to the last time I did them. Then I know where I am physically compared to where I was the last time I tried them."
Victor I use the Kilterboard to assess my fitness by seeing my progress week by week. For example, when I'm in an intensive training cycle, I use the Kilterboard to measure my level of fatigue and see if I need to reduce the intensity and volume of my training sessions."
THERE ARE MANY WAYS TO CLIMB ON KILTERBOARD, SUCH AS ROUTE CLIMBING. CAN YOU GIVE US SOME EXAMPLES OF KILTERBOARD SESSIONS FOR BOULDERING AND ROUTE CLIMBING?
Alannah For a pure bouldering session on the Kilterboard, I could spend an hour trying problems at my limit. I try to rest for 2 minutes between attempts so that I am able to give my best to each attempt. For a power endurance session (i.e. training for competition routes), I choose a wall angle of 25 to 45 degrees and try to repeat a block 6 to 10 times in a row with minimal rest. I do this 4 to 6 times with at least 10 minutes rest between each. If I'm training for outdoor sport climbing, I focus on pure endurance. On the Kilterboard, it comes down to choosing a circuit with a timing of 3-5 seconds per hold and trying to do about 6 laps in total, with 10 minutes rest between circuits."
Victor : "For bouldering, I'm usually most motivated by trying the hardest boulders I see on Instagram and the Kilterboard app. I usually start my bouldering session by warming up on easier problems, focusing on "flashing" new boulders until I'm warm enough to try my hard projects. For the route, I prefer to use the Kilterboard as a spray wall, where I make my own problems to really get sucked in. I feel like by creating my own moves as I climb, I can get into the 'flow' and try really hard."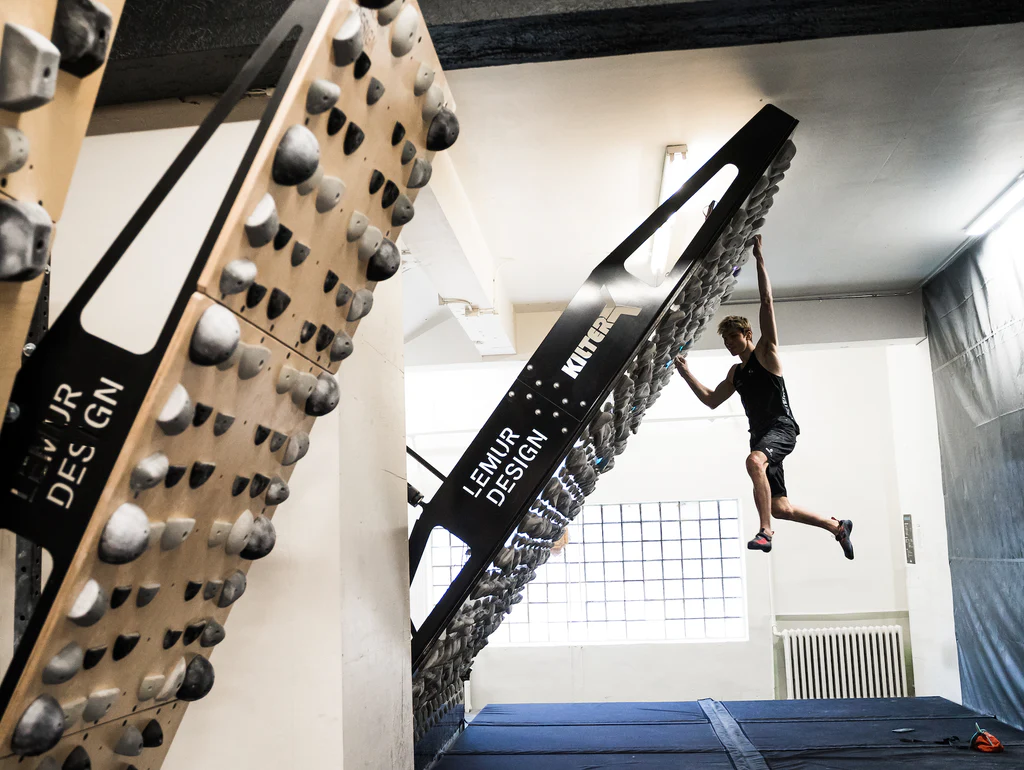 WITH THE ABUNDANCE OF GYMNASTIC STYLE PROBLEMS DURING COMPETITIONS, WHY IS IT SO IMPORTANT TO TRAIN IN A MORE CONTROLLED WAY LIKE KILTERBOARDING?
Alannah I would actually say that I still climb quite dynamically on the Kilterboard, it's just my style of climbing! But in terms of pure dynos or coordination jumps, you certainly don't see much of that. I think to be the best climber you can be, you have to be able to climb both dynamically and statically. Another crucial part of the equation is understanding when to use each style. I really enjoy training on Kilterboard because there are a lot of moves that require both styles, and I also like to repeat moves or problems I've done with both climbing styles."
Victor I think Kilterboard is actually great for training for competition climbing because it has a wide variety of dynamic style boulders that are not only tricky, but also very physically hard. I like Kilterboard more than other training walls because it is so versatile. Kilterboard sometimes forces you to be static and hold a lot of tension in your body, then all of a sudden explode and be dynamic."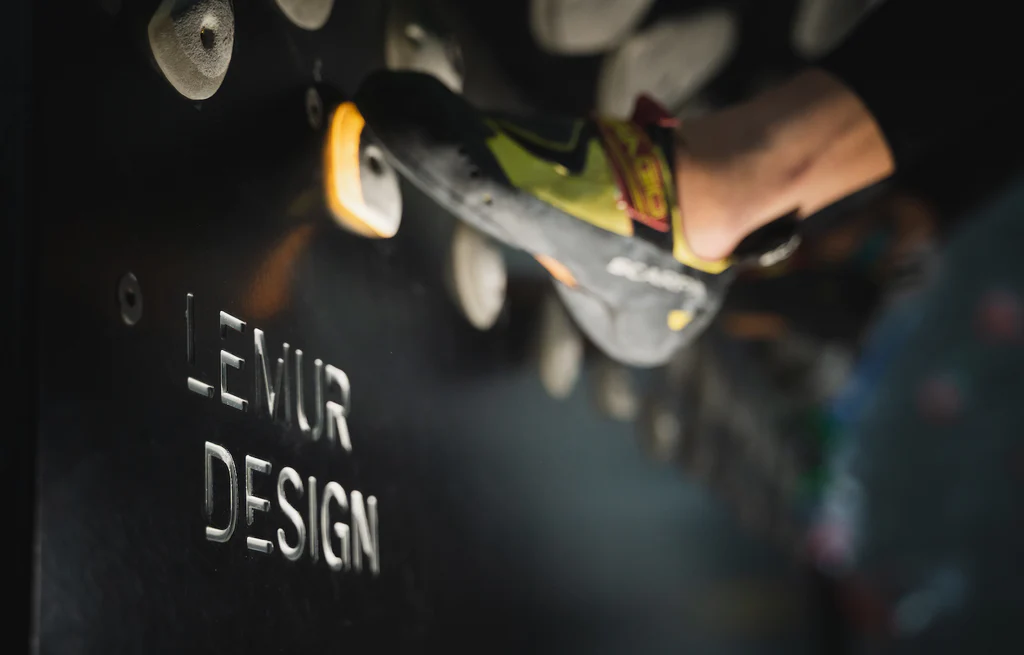 COMPARED TO A STANDARD CLIMBING GYM WALL, DO YOU WARM UP IN THE SAME WAY WHEN YOU WANT TO TRAIN ON THE KILTERBOARD?
Alannah In terms of a floor warm-up, absolutely. I always start with some basic functional movements, dynamic stretching, muscle activation and hangboard. If I'm only going to be climbing on the Kilterboard, I can do all my climbing warm-up on it, starting with the lowest possible angles and easy problems, then slowly climbing into steeper angles. If I'm climbing on the normal walls of a gym, I usually warm up differently too. I want my warm-up to be different every day so that I don't depend on specific equipment to feel ready."
Victor I warm up in much the same way on the Kilterboard as I do in the gym. First, I climb on random holds to get my body moving and my fingers warmed up. Then I start picking out the problems that inspire me."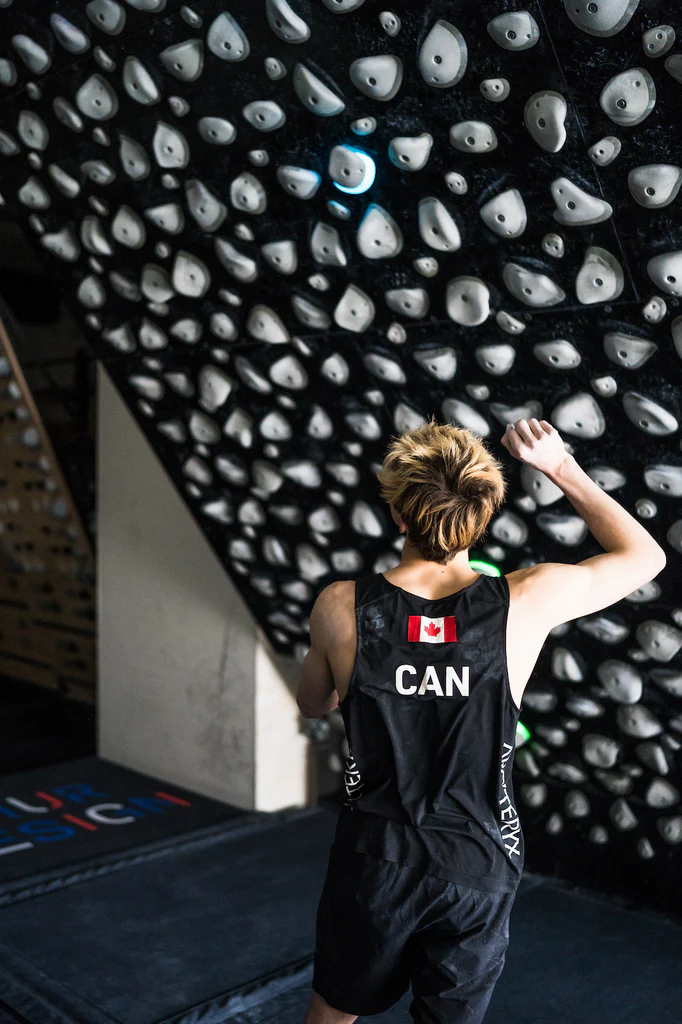 WHAT TYPE OF ANGLE DO YOU LIKE TO USE FOR YOUR TRAINING AND HOW OFTEN DO YOU CHANGE THE ANGLE ON THE KILTERBOARD?
Alannah My favourite Kilterboard angles are 30-45 degrees. I usually keep the same angle of the wall for a whole session - mainly because I get tunnel vision while training and forget to change it!"
Victor I climb mostly at 45 and 50 degrees. I think these angles are the most applicable to climbing and daily indoor competitions."
WHAT ARE YOUR 3 FAVOURITE PROBLEMS ON THE KILTERBOARD?
Alannah I often climb with other people and I don't record my climbs if we use their phones to connect to the board, so they're not all on my list! But I really like :
Pez

The Burden of Hoop Dream

Creaky"
Victor These problems are my favourite because they have very unique movements:
JW1 v11 at 45 degrees

JIBBY JBALL v13 at 50 degrees

The Sauce v12 at 50 degrees".
---